Cocktail party dresses are your best means of gaining attention at a party. While they are usually suitable for more formal events, from their silhouette to their intricate design details, cocktail dresses are special in every way. Read this article and you will learn how to pick the best cocktail dress for you, and where to find wholesale formal dresses.
What is A Cocktail Dress
source:pixabay.com
Definition of a cocktail dress
Cocktail dress refers to ladies in cocktail parties, semi-formal or formal occasions wear, between daytime clothes and formal evening dresses, the color to black, white, pink, gold, and other colors, embellished with rhinestones, sequins, etc., slightly exposed some skin, but not as much as the evening dress. Most of them are made of natural silk, brocade, synthetic fibers, and some new high-tech materials, plain, primed and small patterned fabrics are also often used.
Origin of cocktail dresses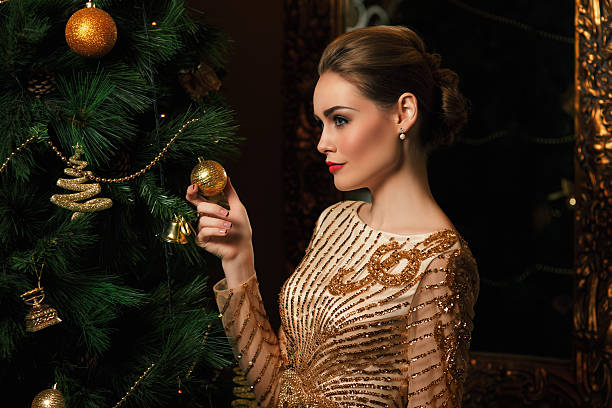 source:pixabay.com
The term cocktail first originated in the United States in the early 19th century and refers to a mixed alcoholic drink. Subsequently, the mixture became increasingly popular in the United States and Europe, and cocktail culture grew rapidly after the end of World War I.
More and more cocktail parties were held, which provided a favorable condition for the development of the cocktail dress. The cocktail dress is the perfect choice for a cocktail party. Unlike the formal evening gown, it is more convenient and stylish at the same time. In America, the 1920s was a time of youthful debauchery and indulgence and gave young women more independence and freedom. They would appear at cocktail parties or lounges, dancing the Charleston, with a cigarette in one hand and a cocktail glass in the other, in defiance of the stereotypes and conservatism of the older generation.
As these cocktail parties were often held in the evening, they also made cocktail dresses a necessary option for women to transition between daytime and night. Dresses made for the occasion were, therefore, both practical and fashionable, and became the preferred choice of progressive women of the era for cocktail parties. When it came to the 1950s in America, regular cocktail parties became a part of the social life of the time. Although cocktail parties were not restricted to any income level or social status, hostesses and guests were expected to adhere to fairly strict rules of etiquette, so cocktail dresses continued to develop.
Cocktail dresses today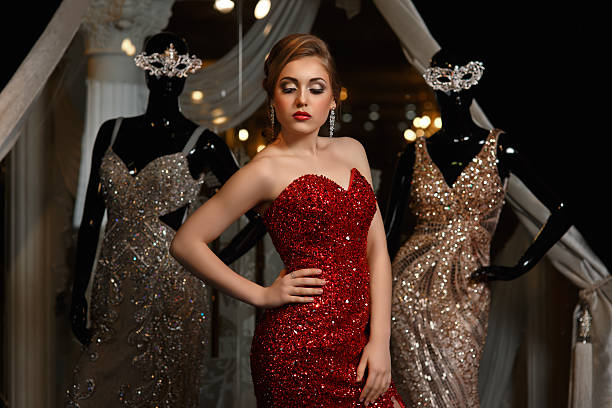 source:pixabay.com
To this day, the cocktail dress is a must-have design item for most brands' fashion collections. And it is due to several major style shifts in the history of the little dress that has evolved into the endless variety of styles that exist today. Cocktail dresses lead the fashion trend and give girls beautiful outfit that embellishes elegance. It brings women not only a noble temperament and light femininity but also a symbol of taste and status, which is loved by women.
Facts to Consider Before Buying
The following are the main facts you need to consider before purchasing.
Budget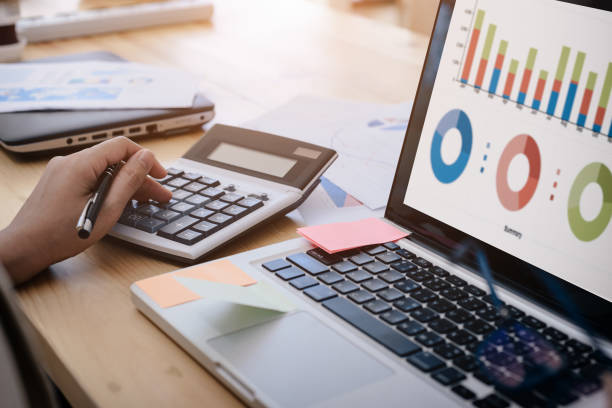 source:pixabay.com
There are countless clothing brands that are suitable for girls to attend formal occasions, like the more affordable brands, although some are not too elaborate on the materials used in clothing, but the design, cut and style can still occasionally make a difference. For people who do not have enough budget, you don't have to break the bank to buy one. For example, Wild Fable is a cost-effective choice, their dresses' materials are relatively good, and the cut and design standards are top-notch, which makes it look much more expensive than the actual price. For this kind of affordable brand, a $200 budget is more than enough.
If you have an adequate budget, there are more brands to choose from. Cult Gaia is an American brand from Los Angeles, founded by designer Jasmin Larian in 2012. What started out as a bag and accessory brand has evolved into a fashion brand that includes apparel and shoes. The Cult Gaia adheres to the design philosophy of "creating art that you can't help but look at twice," creating pieces with a sculptural and architectural feel. Its Zariah Feather Mini Dress is a perfect combination of ostriches feather and cocktail dresses. Whoever wears it, be prepared to be exposed to the spotlight. For this kind of luxury brand, a $1000 budget is the basic requirement.
Color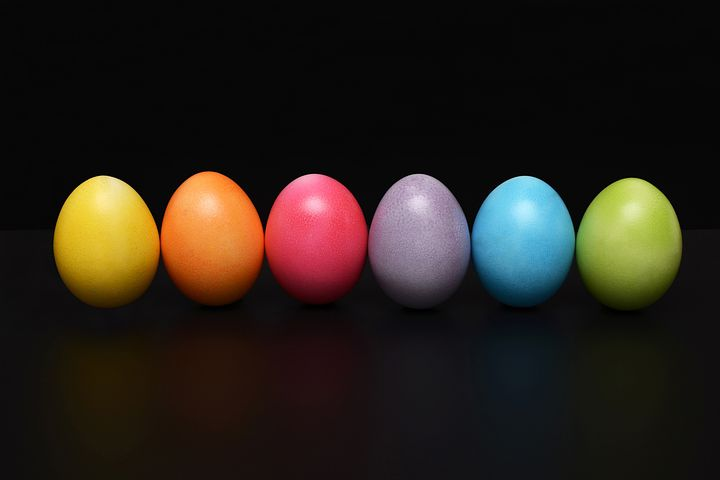 source:pixabay.com
There are many color choices for cocktail dresses, and there are certain rules to follow when it comes to matching, and the color chosen depends mainly on the skin tone of the wearer.
If you have a fair skin tone, you can generally choose from many colors, most colors can be picked, but be careful to avoid big red, black velvet, and other too-heavy colors, so as not to look uncoordinated.
For those with darker skin tones, it is recommended to pick cocktail dresses in bright colors that can create a sexy aura of contrast and health, such as precious blue and big red, etc. It is not recommended to pick dresses in pastel colors, otherwise, they will be overshadowed by the skin tone.
When choosing dresses for yellow skin color to avoid looking poor, it is recommended to choose dresses in intermediate colors, pink, powder blue, and white which will be more suitable, and try to avoid dresses in shades of purple, royal blue, cinnamon, lotus root, copper gold, etc., otherwise, they will look more dull and waxy.
Body Shape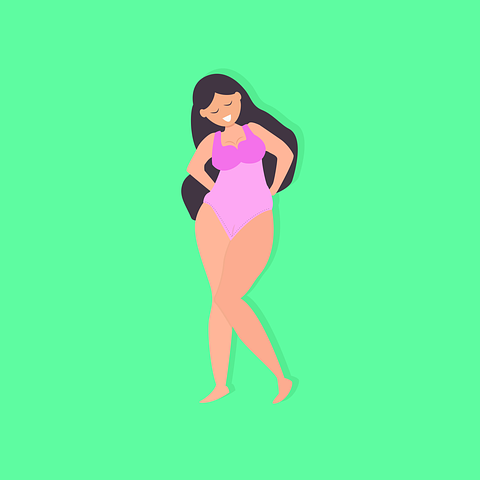 source:pixabay.com
Depending on your body shape, the best cocktail dress options vary from person to person. Here are some tips that may come in handy when you decide to buy a cocktail dress.
If you are thin, I would suggest a strapless cocktail dress, which will bring out the collarbones of thinner women and be more lovely and glamorous.
If you are slightly chubby and want to cover up your little belly, I suggest you go for the high-waisted cocktail dress. It will perfectly cover up the small flaws of your figure and the neckline is more feminine.
Those with a fuller figure should wear a low-cut or backless style to show off the bust's fullness and elongate the neckline. Alternatively, try a long-sleeved dress or add a shawl to cover up slightly thicker arms.
Of course, this is only a rough breakdown and the following will detail cocktail dresses for different body types.
Cocktail Dress That Hides Armpit Fat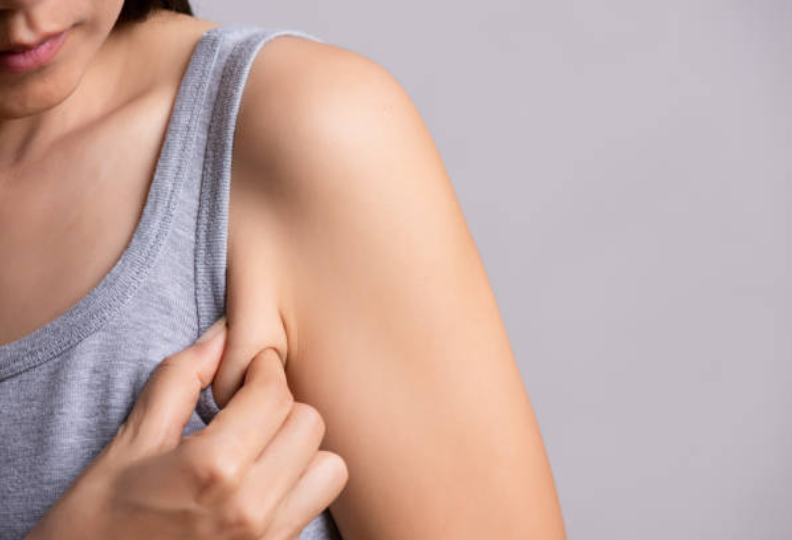 source:pixabay.com
If you wish to hide your armpit fat while wearing a dress, then you may want to say goodbye to strapless cocktail dresses. Although this silhouette is particularly popular, it is not best suited to all body types, especially those with larger upper bodies, but even slimmer figures can fall victim to the underarm masses and bulges created by strapless cuts.
In that case, by choosing the neckline correctly, women can avoid having chubby armpits. For example, a sweetheart neckline is preferable to a square corset for the upper torso. It is also important to wear the right bra. A bra that does not fit the bust can cause the skin to push outwards towards the arms, creating a flabby underarm and affecting the cocktail dress.
Therefore, the right cut and the suitable bra are the key points in choosing a cocktail dress to conceal Armpit Fat.
Cocktail Dress That Hide Arm Fat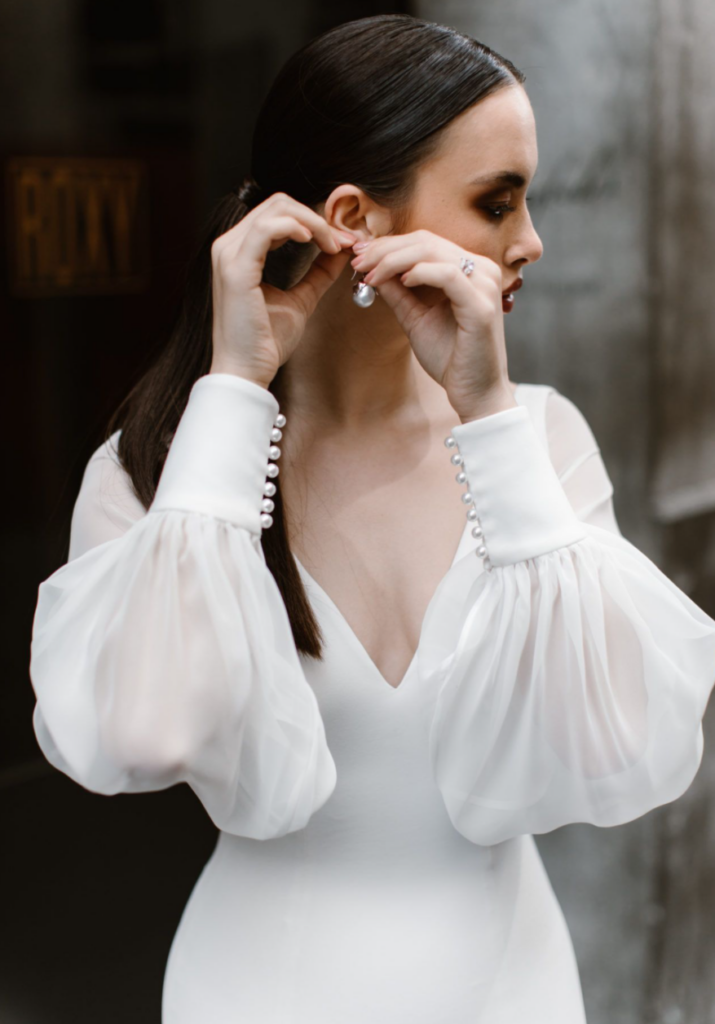 source:pixabay.com
For those who want a cocktail dress to hide their tummy and arms at the same time, a cocktail dress with long balloon sleeves and a cinched waist can be the best choice.
Made from lightweight tulle, this perfect dress has a strapless neckline and a fitted princess-style seamed top (with hidden anti-slip strips and support boning). The long balloon sleeves create a great visual effect, hiding the fat on your arms, there is an opening at the side so you can show off the curves of your legs, and the V-neckline at the front allows you to unleash your femininity. All of this adds to the allure of this elegant white maxi dress.
Cocktail Dress That Hides Tummy Bulge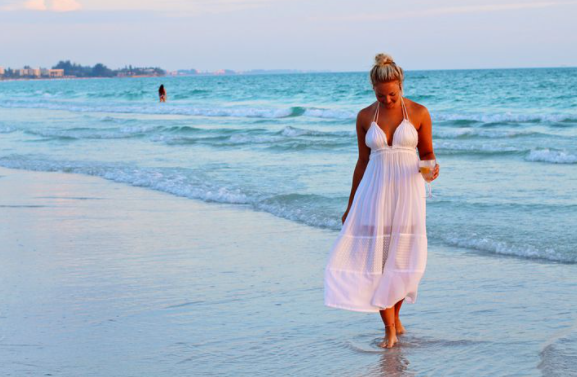 source:pixabay.com
A small tummy is the last thing a girl wants to see when wearing a cocktail dress. So here they come, cocktail dresses that hide the belly bulge.
Very popular right now, draped pleated dresses are perfect for hiding your unwanted tummy bulge. The draped fabric around the waist does a great job of hiding a protruding tummy, giving you the confidence to wear it to formal events.
Empire Waist Dresses, this style of design can be traced back as far as the 18th century in court dresses, but today it has been fully integrated into modern clothing. The empire waist cocktail dress is a style of dress in which it has a fitted top that sits just below the bust, giving the impression of a high waist, and a skirt that is long and loose to slim the body. This design is particularly flattering on pear-shaped figures who wish to have cocktail dresses that hide bellies or emphasize their breasts. The shape of the skirt also helps to elongate the body visually.
Accessories to Go With Your Cocktail Dress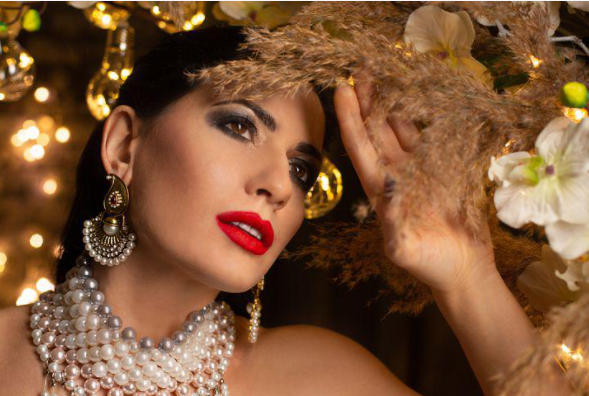 source:pixabay.com
Whether it's a formal party or a wedding reception, carefully selected accessories are essential to make your cocktail dress, even more, stand out.
Shoes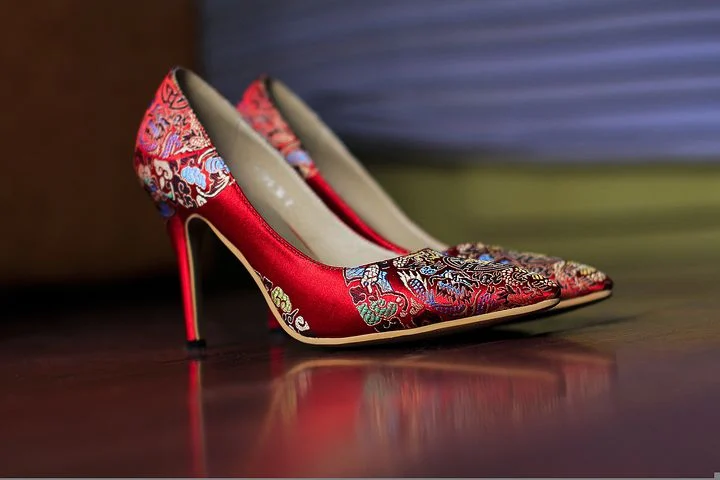 source:pixabay.com
One pair of shoes is enough to change your whole look, because wearing a cocktail dress means you're going to a fancy enough event, so bring out those special shoes you'd never normally get to wear!
Strap-on heels or see-through shoes are both great options, you can also opt for shoes with glitter accents or heels in a bright color that differs from the main shade of your dress, which will make you, even more, stand out in the crowd.
Boots, flats, and informal sandals should be avoided for cocktail dresses as these are clearly not appropriate for formal occasions.
Jewelry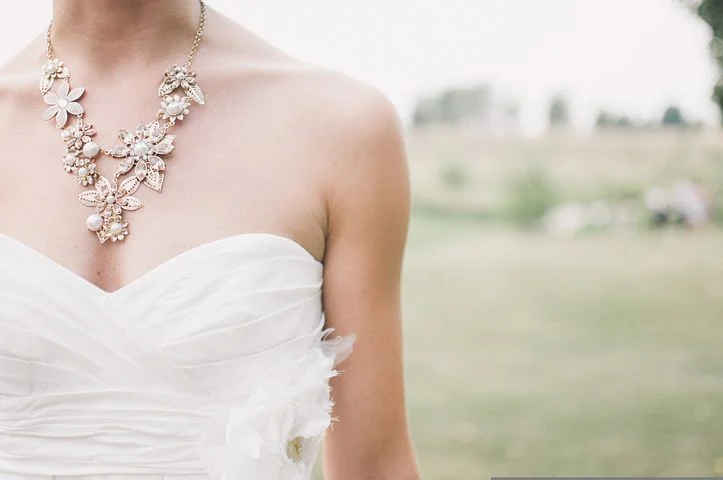 source:pixabay.com
An accent piece like a necklace, watch, ring, or hair accessory will draw attention to the whole room. You can choose earrings in a more exaggerated size or stack multiple bracelets to make a statement.
Mismatching metal colors is something you need to avoid. If your outfit has a silver belt buckle, then don't wear gold earrings. If you're wearing a gold ring, don't wear a silver bracelet. Remember. Keep it simple. This is the secret to success.
Handbag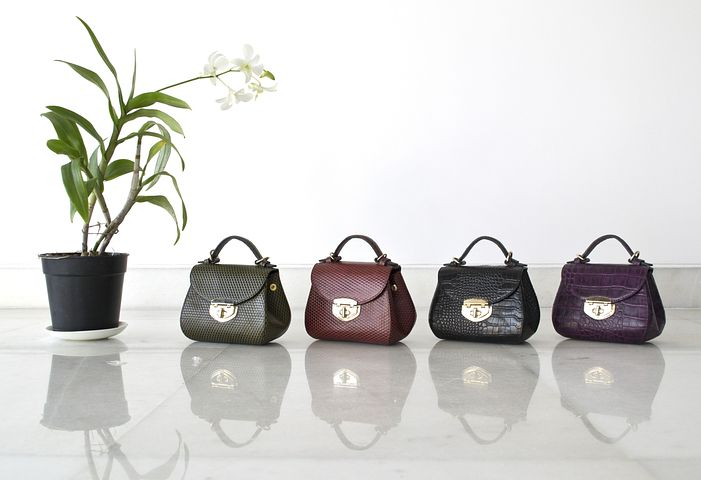 source:pixabay.com
Your handbag is not just a fashion accessory, it's also a necessity when you're out and about, you take it with you everywhere you go, and cocktail parties are no exception.
A small, simple hand-held clutch will suffice for most formal occasions. Your clutch should be matched with your other accessories to complement your cocktail dress. If you are wearing silver glitter shoes, bring a silver glitter clutch. If you're wearing gold hoop earrings, bring a gold metallic clutch.
Large handbags and purses are convenient and can hold a lot of things though. However, please leave them at home when attending a cocktail party. When you're wearing a cocktail party dress, the glamour of the dress is instantly halved if the purse strap is touching your body.
Makeup & Nail Polish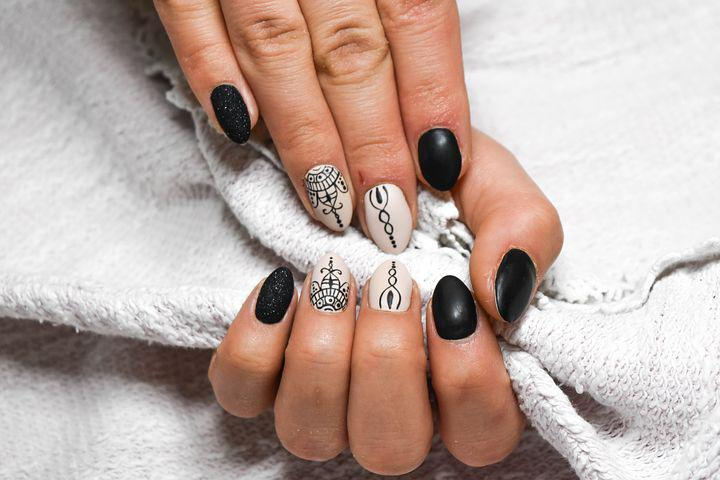 source:pixabay.com
Makeup and nail polish can add the finishing touches to your cocktail party outfit.
For a more polished look, opt for a neutral nail polish that will blend well with your cocktail party dress. The make-up doesn't have to be heavy, but it does have to be decent.
You just need to make sure the colors don't mix and match. Never go with blue nail polish to match a red dress, trust me, it will be a disaster.
Don't like make-up or wearing nail polish? No problem! Just make sure your nails are neat and clean, your smile is infectious and your lips are glossy.
Key Takeaway
After reading this article, I'm sure you have a good idea of what a cocktail dress is, how to choose one and how to style it. Remember, what suits you is the best, and you can visit a number of cocktail dress wholesale websites to check out the different styles before you make the decision. Good luck with finding the most-suitable cocktail dress and making a splash at your cocktail party!