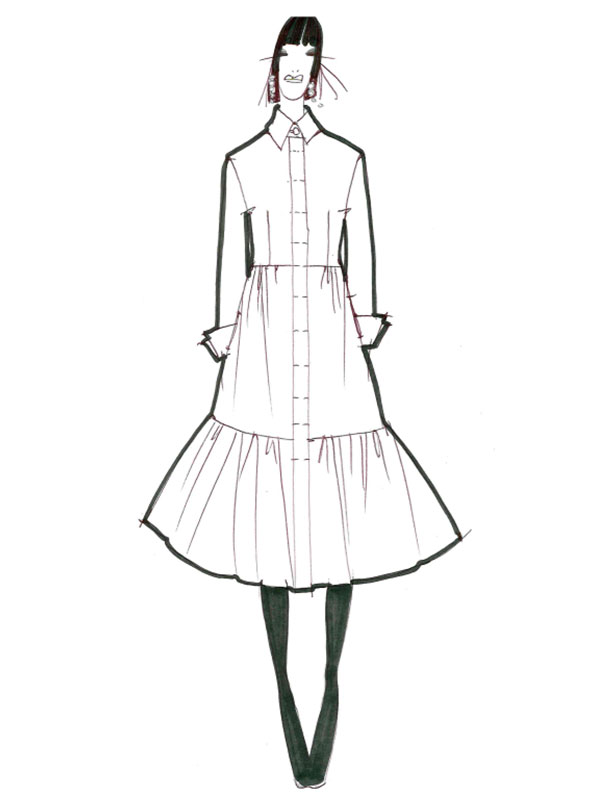 Overview
Our client is a local entrepreneurial women's clothing brand operating in Europe, with customers from the domestic region with diverse tastes. With their mid to high-end positioning in the industry, they directly operate 4 stores located in major shopping malls. As a local source for quality clothing, our client has been successful in promoting the fashion of the area with their clothing line. They lead the domestic industry with the right design ideas based on current market trends and a great understanding of women's clothing.
Result
With that said, the client lacks a proper design team and board development group that can assist in realizing their design ideas. Additionally, the country does not possess the abundant surface accessories and fabrics required for making leading women's clothing. The client gets market purchases provided by buyers who purchase samples of high-end brand women's clothing with the same style.
This means that our client is reliant on suppliers who will have to find expensive, premium quality women's clothing from an assortment of sources based on the style required or within market trends. Such a system is inefficient and has caused many delays on supply, as well as increased spending on the part of our clients. Along with supply issues, sizes will be limited to what is made available by those high-end fashion brands, which will not match well with some of our client's customers.
Without a consistent supply of raw materials or a proper source of finished products, our clients will require the support of a manufacturer to handle these sorts of needs. Hangzhou Garment is the right place for such support through our one-stop production processes, control over production, and mature supply chain. We have secured our client's trust with services that catered to their pain points while improving the success of their business operations at minimal hassle or cost to them.
We begin our collaboration and solution-making through a clear line of communication, in which we receive our client's inputs. All the details on the type of garments required, fabric composition, and size requirements are taken note of beforehand so that we will know what raw materials to acquire and the processes needed.
Through our massive fabrics market in Guangzhou, we have easy access to premium fabrics that are known for their beauty and durability. We tap on reliable suppliers to provide a consistent supply of materials while also checking incoming materials for any defects and ensuring only durable, lasting fabrics are used for production. With this mature supply chain, we can also buy the required amount of materials needed for any volume orders so that we can increase or decrease clothing as the client requests.
To adjust to their requests, we provide custom lengths and sizes for the garments to ensure our client can meet different size requirements for long-sleeved and short-sleeved clothing. We often prepare sample pictures to show the customer what we can do for them, along with our comments on what they need. This makes the quotation process much smoother, as we outline the required materials and the costs to give our customer a smoother transaction. For fast sampling, we prepare ready-to-wear models that can be inspected so that we can transition easily into mass production. With the support of our leading designers, we conceptualize garments suited to the client's vision in order for their clothing line to be trendy and expressive. In producing their clothing line, we use every opportunity to create their branding identity through bespoke logos and unique patterns that set their clothes apart on the shelf.
How We Did it
As the market is looking for suitable surface accessories, we provide a variety of ABC varieties and color options for the customer to choose from. We ensure the fabrics can be customized and ready to be matched to the client's requirements. Simultaneously, we make the pattern based on the client's design ideas, forming the pattern through the fabric to create parts ready for sewing. With our capable sewing team, we can realize complex designs for a variety of women's dresses and garments. After sampling, we can mass produce through our advanced machinery, meeting large volume orders and ensuring that every order can be delivered within 6-8 days.
Finally, we help with the safe packaging and delivery of the goods through our attentive packaging and arrangement of the clothes in attractive, durable boxes. To ensure smooth, hassle-free entry to the client's region, we arrange customs declaration logistics, scheduling deliveries to bring the client's packaged goods faster.
Through our one-stop production processes, we supply the client's stores with enough clothing to meet demand, as well as grow demand from various customer groups. Every solution we provide fills in what the client is unable to do while empowering them to expand their business operations within their means. Hangzhou Garment is a valued partner that can grow profits from any brand or client with a strong vision for their region's fashion.