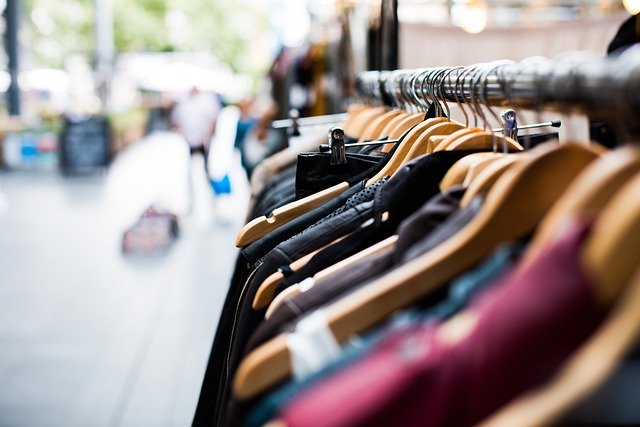 Source: pixabay
According to Statista, the retail e-commerce industry is worth $102.5 billion, which will surge to $153.6 billion by 2024. In just a few years, this number had increased by 50%. If you are an entrepreneur who is passionate and creative about clothing, this guide will teach you how to carry out the clothing business from beginning to end, including all the information you need to know. Thus, when you are ready to start the clothing store, it will be a piece of cake.
How to Estimate the Budget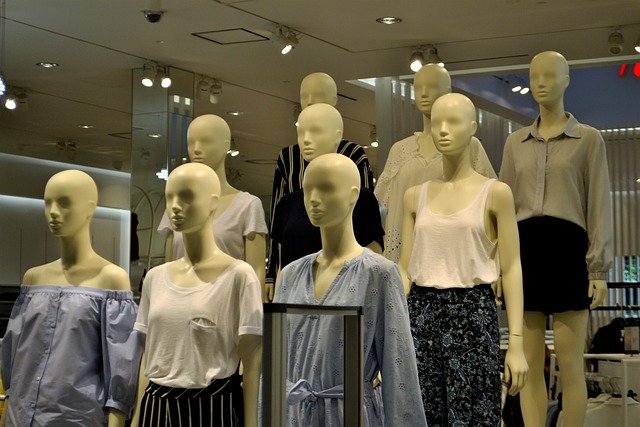 Source: pixabay
At the beginning of entrepreneurship, entrepreneurs need a startup fund, but how much does it really cost?
As a clothing entrepreneur, you need to fully understand the cost of manufacturing goods, also known as the cost of goods sold (COGS). COGS includes material, labor and production costs. You also need to consider the costs of running the clothing production line, such as the rent you pay for the warehouse, transportation costs, and employee payroll.
Calculating the required funds in detail is the key to success. Underestimating the demand, entrepreneurs will be stretched before they can make profits. If the cost is overestimated, the entrepreneurs will be unable to gather a large number of startup funds. For this reason, the challenge faced by entrepreneurs is to find reliable information. The good news is that entrepreneurs can obtain specific amounts and valuable suggestions from many channels.
The following five ways can help entrepreneurs better estimate their budget: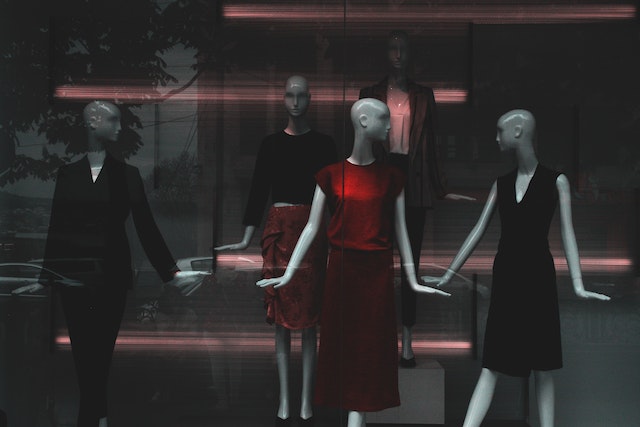 Source: pexels
Peer.
Merchants who operate businesses similar to yours are the best source of information for calculating the business costs at the initial stage of entrepreneurship. Your future competitors may not want to help you, but as long as they are not in the same region, they are very willing to help.
Suppliers.
Suppliers are also a good source of information for researching entrepreneurial costs. The entrepreneur can call the direct suppliers and tell them that you want to know the cost of a certain industry because you plan to start a business. They are usually very willing to help, because they also want to look for future business opportunities with you.
Industry Chamber of Commerce.
According to different industries, the Chamber of Commerce can provide samples of startup cost details and financial statements, lists of relevant entrepreneurs and suppliers in the industry, market research data, and other useful information.
Entrepreneurial consultant.
A qualified entrepreneurial consultant can provide relevant suggestions on startup funds, even make many investigations for you, and also help you turn your investigations into useful financial forecasts and specific plans.
Entrepreneurial articles.
Entrepreneurial articles can enable you to roughly estimate the startup costs required, and help you make a list of expenses that need to be investigated. Don't forget to consult relevant industry magazines to learn about supplier information, industry costs, and the latest industry trends.
Choosing a Niche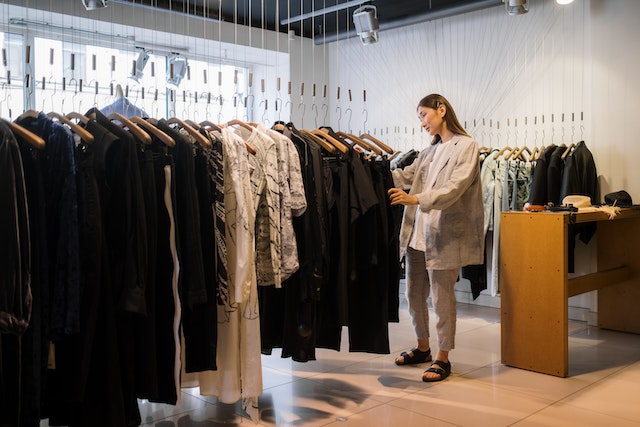 Source: pexels
A necessary step in any business is to conduct research and thoroughly understand the market and target audience. The clothing business has a huge market, which is divided into various sub categories and professional fields, including clothing wholesale type and private label type. You must evaluate the type of clothing you intend to provide, the market your company will operate in, and the target audience for your clothing line.
No matter what your initial market position is, don't jump in immediately. One of the biggest reasons most entrepreneurs fail is that no one really wants something they want to sell. If you go through the whole process of learning how to start your own clothing line but never achieve the success that you want, it will be a complete tragedy. So market research is a crucial step.
Here are some practical market research methods:
Search for specific items in various search engines to see which items are stable or growing.
Through various social software, you can deeply understand the preferences, interests, and behaviors of the target people you envision.
Keep an eye on your competitors and study their characteristics, especially their negative news, which may also be your problems.
Understand your niche and keep it in mind. Even if you expand and introduce many other ideas over time, your initial idea will give you a guiding principle and a reason why your clothes are worth remembering.
Find a Trustworthy Clothing Manufacturer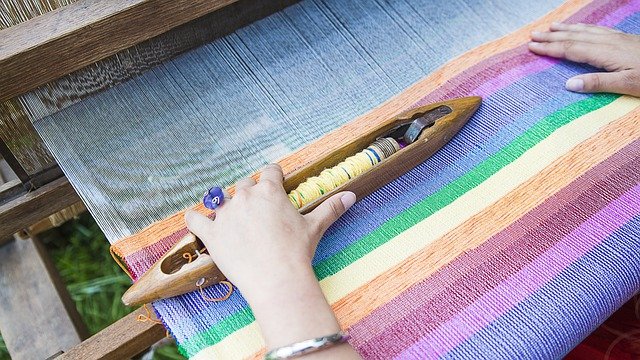 Source: pixabay
When the idea becomes mature, you should start to look for a trustworthy partner that can turn your clothing design into reality — a clothing manufacturer. Maybe every entrepreneur has doubts: where can I manufacture my clothing line? How to start a clothing line with no experience? How to start a clothing line with no money?
Actually, to find the right clothing manufacturer, you can ask any people you know and indicate your priorities: are you looking for a type of clothing wholesale supplier or private label suppliers? For example, you are creating your own women's clothing brand. If you are a private label women clothing, you should look for manufacturers that can provide special customization; On the contrary, if your clothing is oriented to the general population, you should look for women's clothing wholesale suppliers.
Manufacturing is an important part of any clothing business, regardless of size, so please take the time to carefully look for a list of potential manufacturers. The following steps can help you find manufacturers that meet the requirements: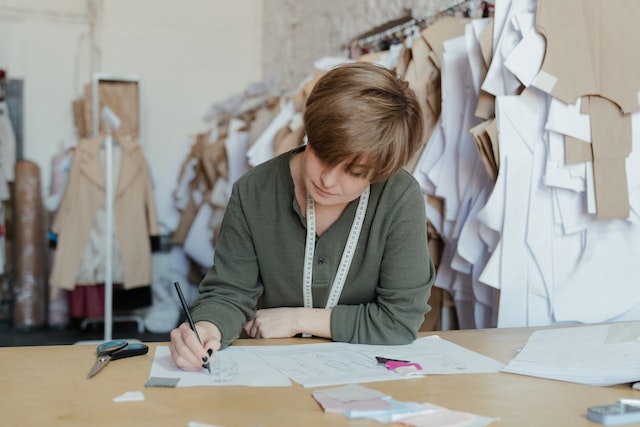 Search manufacturers. Search engines can find a comprehensive list of manufacturers. The clothing trade show held in your region is also a good way to see different clothing manufacturers, who are happy to answer any questions you have. Local fashion schools and Facebook groups may also find potential factories to cooperate with.
Focus on the type of manufacturer. First, you need to decide which type of clothing to make for the clothing series. Your clothing manufacturer should focus on your category, so as to ensure the quality of your clothing. There are mainly contract manufacturers and private brand manufacturers. Which type of manufacturer you choose depends on the positioning of your clothing brand.
Good manufacturer, and good service. As a partner, timely communication is essential. When you contact the manufacturing company, know their response speed. Can you easily contact the company? Is their customer service good? Manufacturers that respond quickly and provide quality customer service are more likely to be suitable for your brand.
Manufacturer's output. Only by knowing your clothing output can you better choose a manufacturer. Most clothing manufacturers have minimum requirements for the number of goods ordered. You need to ensure that your brand is large enough to meet the minimum requirements for your cooperation.
Manufacturers at the right price. It depends on your business plan and initial fund. The entrepreneur makes sure to compare each when looking at the quotations from different clothing manufacturers. If necessary, you need to ask the manufacturer how long their quotation time is, so that you have enough time to consider whether to trade.
Online or Brick&Mortar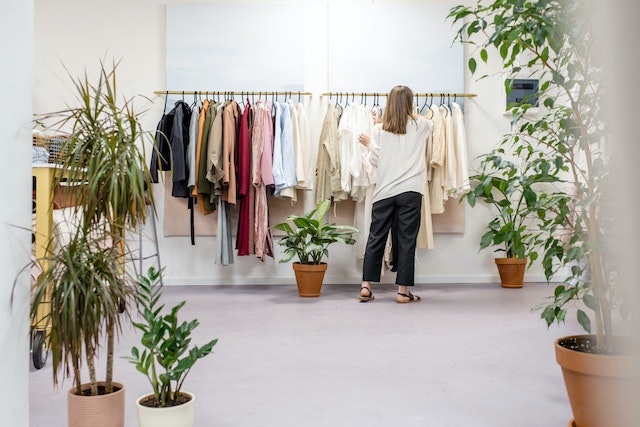 Source: pexels
In recent years, the momentum of e-commerce has become increasingly fierce. Take retail as an example, E-commerce (e-commerce sold through the Internet) has increased by 14% at the same time. Can these figures alone prove that online purchase business is the reason for the decline of physical business? We should compare and analyze specific businesses and industries. Determine its advantages and disadvantages. For the clothing industry, both physical stores and online stores have their own advantages and disadvantages.
If you are still hesitating to open an inline store or a physical store, here is a list of advantages and disadvantages to help you determine which option is more suitable for your goal.
Brick&Mortar
There is a physical location or store where customers can visit, buy and interact with the brand. At present, some businesses are also committed to establishing their presence on the Internet while maintaining their physical location. Think about the famous fast fashion clothing brands in the world.
Advantages:
Customers can visit in person, and these types of interactions can build long-term customer loyalty.
Depending on the location, your store can get walk-in traffic and attract new customers without any extra effort.
As the company grows, you can become part of the local small business owner community.
Disadvantages:
Customers will be limited to the store's business hours.
Your position could improve or break your business.
Compared with online stores, you may spend more time and money to hire, train and manage employees in physical stores.
Online store
A small business that operates using an Internet connection. In fact, many online businesses can be completed by one person, and then expand their business and employees over time.
Advantages:
Your customers can shop 24/7 from anywhere.
Without physical stores, online stores can be more cost-effective.
You can provide consumers with lower prices online without traditional retail store price increases and less spending.
Disadvantages:
Customers may choose to visit the physical store or return items that do not match the photos on the website.
Transportation can become expensive and lead to delays in delivery.
Customers may find it difficult to find your store on the vast Internet.
Branding & Marketing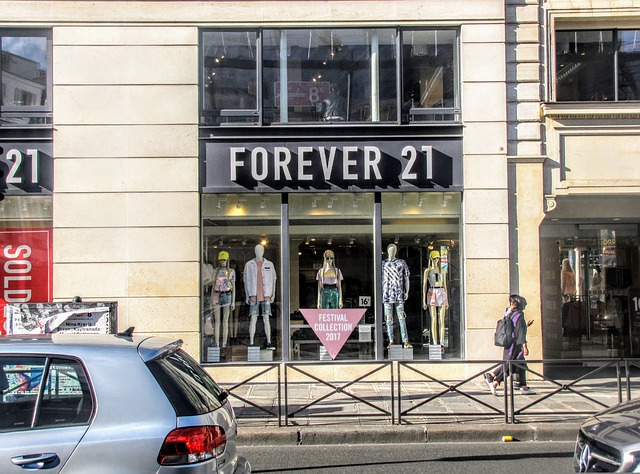 Source: pixabay
As a member in the fashion industry, clothing often needs constant inspiration and design ideas. Identifying your clothing brand is an important symbol that distinguishes your clothing business from other businesses. Your brand identity will affect the types of projects you develop, clothing names, logos, and website styles. A solid brand image can resonate with your customers and help you build customer loyalty and improve profitability.
The following elements are indispensable for how to create your own clothing brand:
Choose a brand name that appeals to the target audience. You can choose a brand name based on the age of the target audience, or you can use your name as the brand name.
Trademark is an important part of the clothing brand. You may incorporate it into your design or highlight it on your social media channels.
Determine your brand theme color. Different colors represent the tone of the brand and the idea of the creator.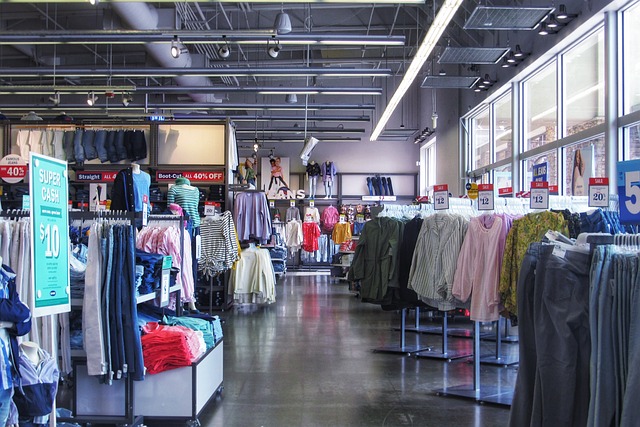 Source: pixabay
On the basis of determining the brand, we can make a better sales plan. Generally, you should have a marketing plan before the clothing business is launched. You can:
Set up Internet social software advertisements. This is a popular advertising method for the clothing industry to establish a customer base. The Internet has incredible communication power and can help you cover the right users.
Hold gift activities. By cooperating with other products, you can obtain consumers' e-mail, so as to establish your e-mail list before the store goes online, and then use e-mail marketing after the release to build a stronger relationship with customers.
Social talent is an important asset in the fashion industry. Generally, online consumers have strong influence. You can provide them with some of your clothes. In return, they will publicize your name and your clothes to a large number of their followers on various social media platforms.
Tips to Lower Your Budget Even More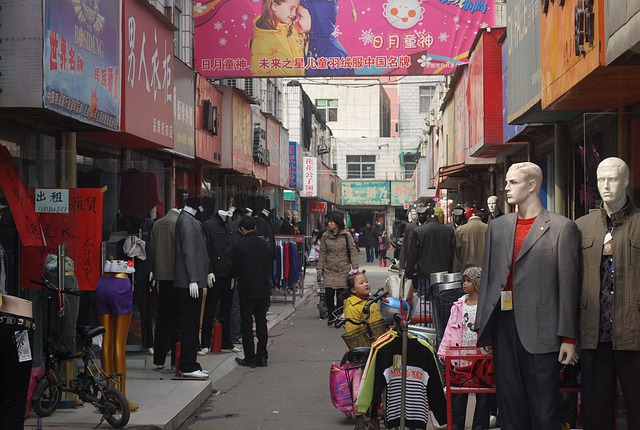 Source: pexels
It is your dream to start your own clothing industry. But at the beginning of your business, you may face the problem of capital, which requires you to reduce costs. If you keep your profits low, operating costs and labor costs will erode your profits, thus spending more than earning.
Reducing the cost of the clothing business and creating a health process that costs less over time does not necessarily take time or take too much thought. All this is to make a wise choice in reducing business costs.
The following, we share some simple ways to reduce business costs. Reducing the budget is not as complicated as you think.
Select the right manufacturer.
Even if you have a list of many garment manufacturers, it is obvious that there are many manufacturers with the same technology and the same quality, and their prices are different. At this time, you need to make an in-depth investigation to find out which manufacturer has good service and can provide the industry average price under your conditions.
Rely on modern marketing methods.
Even if the rise of any clothing industry is inseparable from advertising, entrepreneurs should be good at using Internet technology. A network is a social place. Seize every opportunity to improve the
Paperless.
Even though the cost of paper, ink, and mailing is very low, once they add up, it is also a big expense. By paperless, you can reduce your daily business costs. Electronic management through computers can not only save office space but also reduce your business costs.
Always adjust your budget report.
In terms of reducing business costs, budgeting is an important thing. If you don't actually know how much money you import and export each month, you can't make wise financial decisions. Budgeting enables you to learn on a daily basis how to reduce business expenses immediately.
Work with small businesses.
Finally, when considering how to reduce business costs, go to small enterprises to buy! Because, unlike large service providers, small local businesses can optimize their services to meet your needs. Most importantly, the price of small enterprises is much lower than that of large enterprises.
No matter what level your enterprise is at, from the start-up stage to the mature stage, reducing the budget cost is always the mind of the business owners. Through the tips on how to reduce business costs outlined above, I believe it can reduce your clothing business costs to a certain extent.
Key Takeaway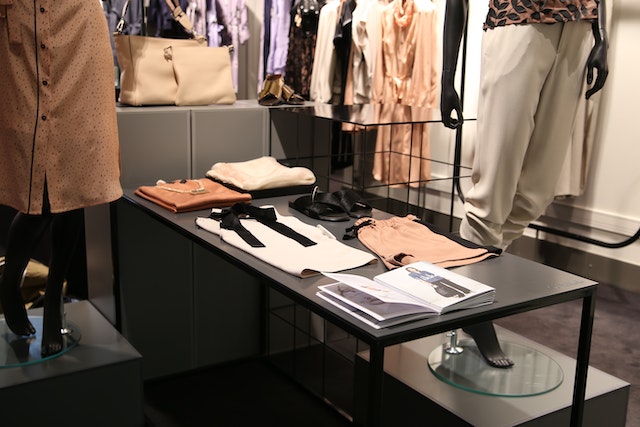 Source: pixabay
By now, you should have a clear framework for how to develop your own clothing business. It may be difficult to create your own clothing brand. You need both creative vision, enthusiasm for fashion, and the sensitivity required to run an enterprise.