When it comes to wedding dresses, you might think that there's only one kind: the white gown. In reality, there are many different types of wedding bridal dresses for every bride's style and personality. You can choose from simple and classic or elaborate and bold. You can even mix styles by pairing a traditional dress with an unconventional accessory such as sneakers or shorts (yes! It's totally a thing). Some brides love lace while others prefer modern materials like tulle and silk chiffon. Whether you're looking for something simple or something extravagant, here are some popular types of bridal and bridesmaid dresses so that you can find your perfect look.
High-Neck Wedding Dress with Gloves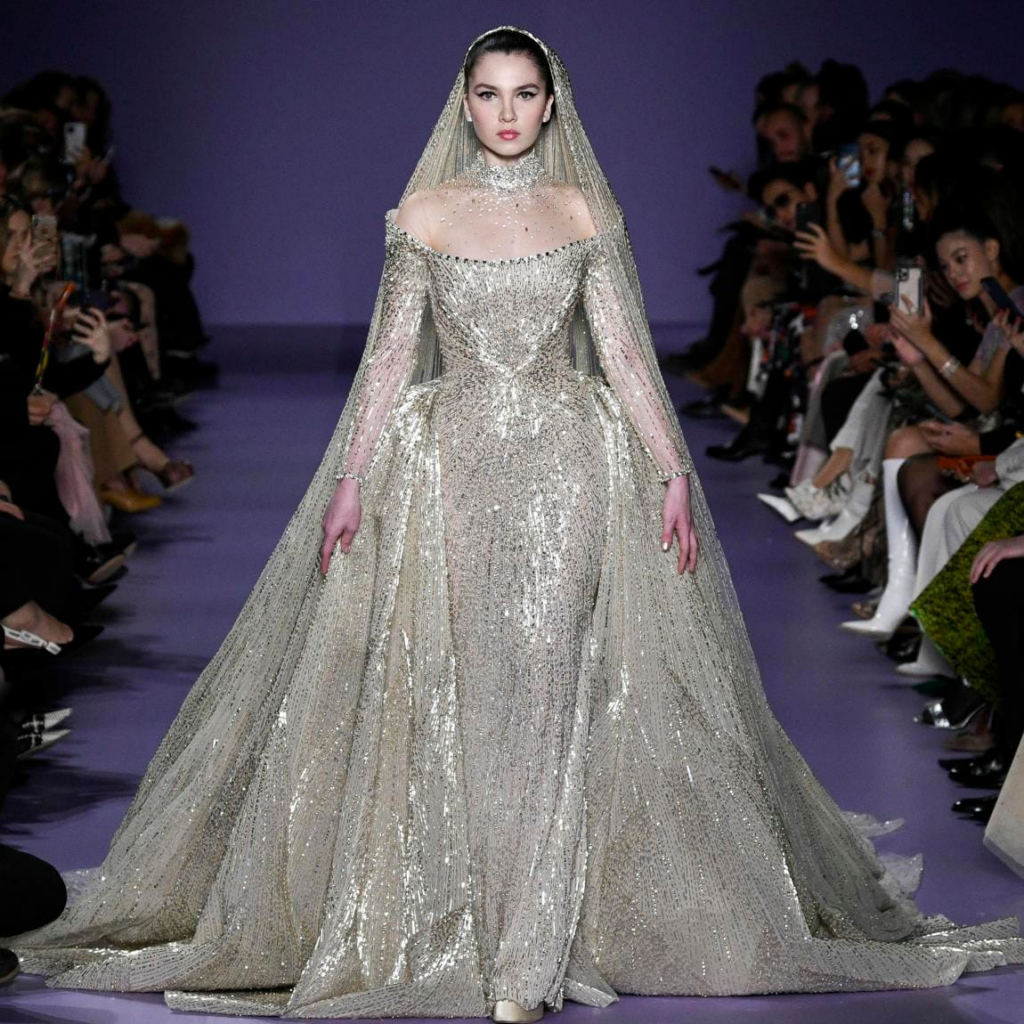 GEORGES HOBEIKA
The high-neck wedding dress with long gloves is the most popular type of wedding dress. It's what you grew up seeing in your parents, grandparents, and even great-grandparents–yes, this style has been around for quite some time!
The classic look of this style makes it easy to recognize: The bodice (or upper part) of a high-necked gown features buttons or zippers up the back that fasten into place with loops at the waistline. It also has sleeves that extend all the way down to your wrists and often include lace trimming along their edges for an elegant touch.
The skirt portion can vary from full or slim; either way, you'll want something that flows easily when you walk down an aisle or dance across one!
A-line Dresses.
Oscar de la Renta
There is a wide range of wedding dress styles to choose from, but the most popular wedding dress style is the A-line silhouette. An A-line wedding gown is characterized by its fitted bodice and flared skirt. This look is ideal for brides who want to show off their curves.
The A-line silhouette has been around for decades, but it's still one of the most popular choices among brides today. It's no wonder why — this beautiful style flatters every shape and size!
A-line dresses are a classic style that works for all body types. They have a narrow waist and a fuller skirt, which makes them flattering on most women. A-line dresses can be made from a variety of fabrics, including lace, silk and velvet. The same dress can also be customized to match your wedding theme or color scheme by adding embellishments like crystals or sequins to the fabric before it's sewn into your gown!
A-line Wedding Dresses are Timeless
An A-line gown will never go out of style. These dresses have been around since the 1930s and they're still popular today because they complement all body types and shapes beautifully. The best part about an A-line wedding gown? You can wear it again after your big day!
Short Wedding Gowns
Oscar de la Renta
Short wedding gowns have been around for centuries, but they have become increasingly popular in recent years. This is mostly because they suit a variety of different styles and body types. The most common type of short wedding dress is the ballgown, which has a full skirt and an empire waistline (the bodice fits just below the bust). These dresses look great on everyone from petite women to plus-size women. They also come in other shapes such as mermaid or A-line styles that can flatter even more different body types.
When it comes to short wedding gowns, there are no rules — just guidelines. The length of the skirt depends on what type of dress you want: You can go as short as floor-length or as long as mid-calf (or even ankle). If you want something classic and elegant, choose an A-line dress with an empire waistline. If you want something more modern, try a trumpet skirt that hits just above the knee or high-low hemline that flows all the way down to your feet.
Short dresses are great for brides who want to show off their legs, or who have shorter legs and don't want their dress to make them appear even shorter. Short dresses also tend to be more comfortable in hot weather, since they don't have as much material beneath them (and therefore don't weigh you down). And because they're so fun and flirty, short wedding gowns can really make your personality shine through at your wedding!
Classic, Empire Waistline Gowns with A Full Skirt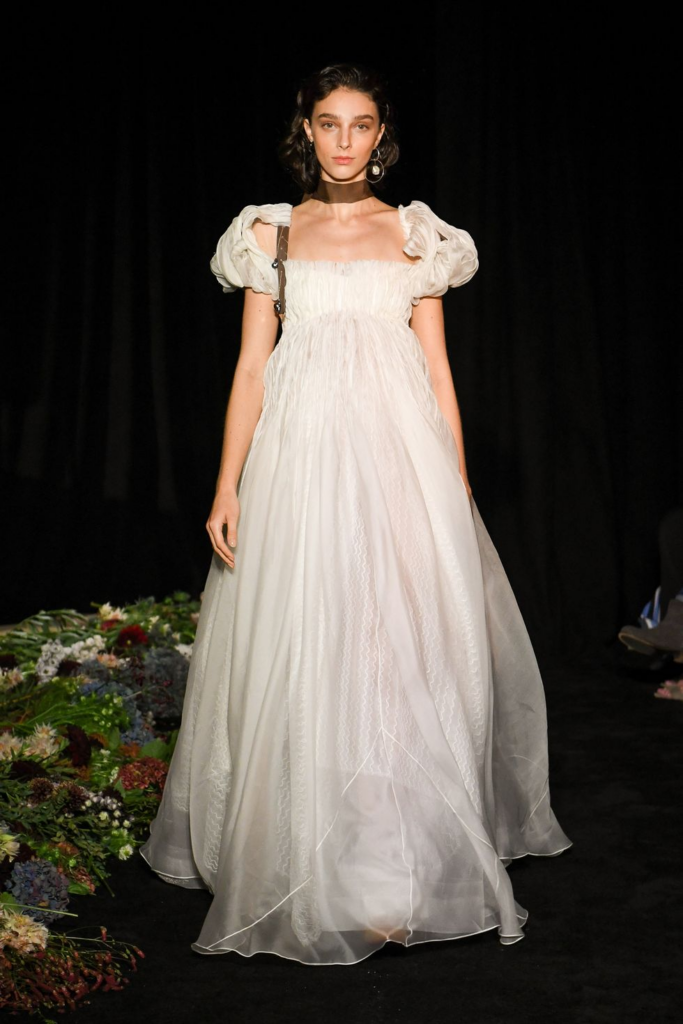 Danielle Frankel
In the 1800s, a bride would wear an empire waistline gown with a full skirt. This is considered one of the most popular types of wedding dresses because it suits many different body types, especially if you are looking for something that will hide any problem areas. It also looks great on most brides who want to show off their curves without being too revealing. If you're having a traditional wedding, then this is the perfect dress for you.
A classic wedding dress is a strapless gown with a sweetheart neckline. The skirt can be full or A-line, but it must be long enough to cover your feet when you walk down the aisle. The fabric of these dresses is usually silk or satin, although other materials like tulle are used as well. In addition to white being the most popular color for this style of dress (which will complement your skin tone), other options include ivory/off-white, blush pink and lavender purple–all of which are festive without being too bright for daytime weddings.
Empire waistline gowns are one of the most popular types of wedding dresses. The empire waistline is a style that was popular during the Victorian era and has since become a staple in the world of fashion. The empire waistline is achieved by gathering the fabric at the top of the bodice so that it forms a small bustle at the back of the dress before flowing down to form an A-line shape. This style can be found on many different types of dresses for any occasion, including wedding gowns.
The empire waistline can be found on many different types of dresses for any occasion, including wedding gowns. It's important to consider your body type when choosing an empire waistline dress because it can help accentuate or hide some features about your figure that you might not like. If you have a large bust or hips, an empire waistline will help camouflage these areas and make them appear smaller than they actually are. If you have a narrower figure, an empire waistline will help show off your curves and draw attention to these parts of your body rather than hiding them away underneath layers of fabric as other styles might do.
Ballgown Wedding Dresses with A Mermaid Silhouette or Trumpet Shape.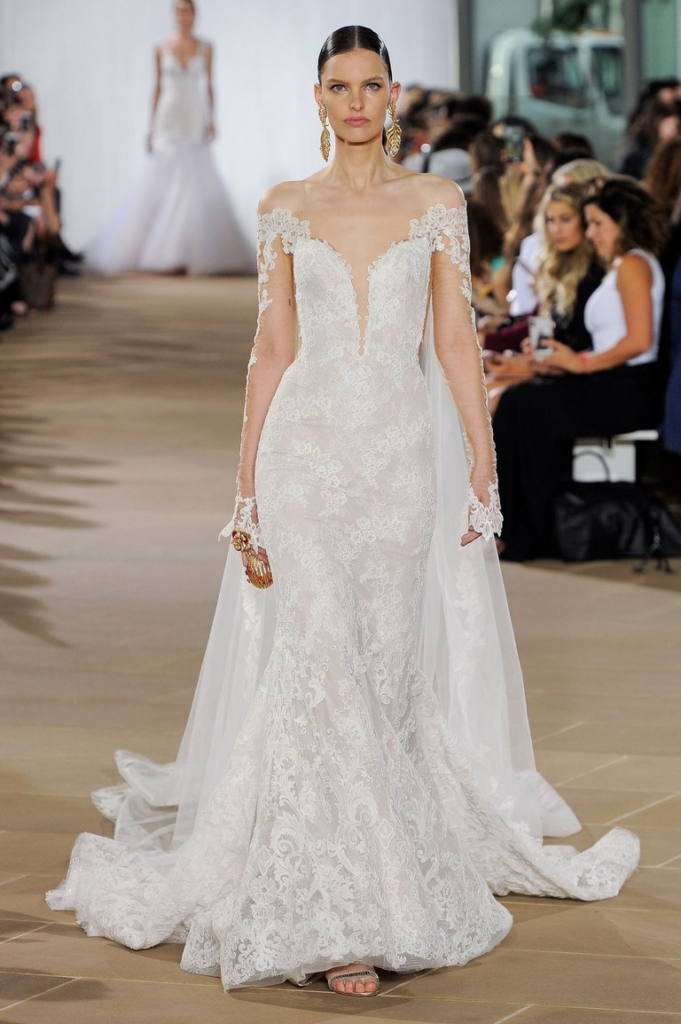 LETIZIA BY SAREH NOURI
Ballgown wedding dresses are perfect for the bride who wants to show off her curves. This silhouette is ideal for the bride who wants to feel like a princess on her wedding day, and the ballroom-worthy skirt means she can twirl all night long.
The ballgown is one of the most popular shapes for a wedding dress, and it comes in two main styles: the mermaid and the trumpet. Both have fitted bodices that flare out into full skirts and trains, but they differ in how far from your body they flare out. In a mermaid silhouette, there's more volume at your natural waistline (in front) than there is at your hips–so if you're petite or curvy, this might be more flattering than having extra fabric pooling around your thighs (as would happen with a trumpet). The trumpet silhouette has more volume throughout its length–it can look great on anyone!
The mermaid silhouette is another popular choice for brides looking for a ballgown style. It's similar to the A-line dress in that it flares out at the bottom, but unlike the A-line, which has an even hemline all around, the mermaid dress has a curved hemline that begins at the natural waistline and ends just below the knee.
The trumpet silhouette is similar to the mermaid silhouette in that they both feature curved hemlines that begin at the natural waistline and end just below the knee. However, while both silhouettes feature a curved hemline, only one side of a trumpet gown flares out while the other remains straight (like an upside-down trumpet).
Knowing Which Wedding Dress is Most Fit for Yourself Can Help with Shopping for Your Wedding Day.
With so many options available for dresses, it's no wonder why brides-to-be often have trouble finding the perfect gown for their big day.
Luckily, there are some trends that are emerging as the most popular type of wedding dress. Knowing which wedding dress is most popular can help with shopping for your wedding day.
The most popular wedding dress is the one that is going to look best on you. Your dress should be made with your figure and body type in mind. It needs to flatter your curves, hide things you want to hide, and accentuate what makes you beautiful.
If you are a plus-size bride, it is important to know that there are many options available for plus-size brides. There are dresses with ruffles, lace, beading, and long trains. You will find many different styles of wedding gowns for plus-size brides in stores today.
Conclusion
For the majority of us, our wedding is the biggest and most important affair of our lives. It is a day to remember and cherish for a lifetime. However, picking out the right wedding dress can be one of the biggest challenges in the whole process. We hope this guide has helped you to understand the different types of wedding dresses available. If you're still unsure which style is right for you, we recommend heading to find a women's clothing manufacturer and booking a bulk tailor-made clothing service for the bride and bridesmaids.